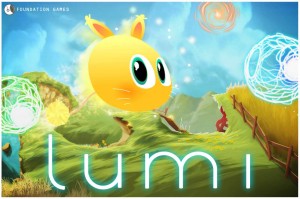 Correct me if I'm wrong, but wasn't Lumi already a game about light? I mean, "With the universe fallen into darkness, Lumi is the only one with the ability to bring the universe back to light. Use Lumi's powers, based on magnetism and light…" Sounds pretty straightforward to me, Foundation Games. Well, never let it be said that this crafty TriplePoint client can't find a way to enlighten us even further — they've released Lumi Lite, a version of the game that's free, and yet comes with a few entirely new levels not found in the original.
In their own light-hearted words:
"We wanted to set our company apart and not just provide the first few levels for free, but offer a totally new experience," explains Aron Beierschmitt, founder of Foundation Games. "With Lumi Lite, interested gamers can test out the gameplay and story for free, but our devoted fans can also experience un-played levels."
I get that "light" and "lite" don't necessarily mean the same thing. I'm employing word-based humor. Lighten up.
Related posts: